Currently, there are several new developments in the battery market. Particularly in electrode mass manufacturing where line operators can use various technologies and machines. One option in production is continuous manufacturing using twin screw extruders. Battery-News asked Thorsten Stirner, Team Leader of Process Technology for Chemicals and Battery Applications at Coperion, about the advantages of this process and the requirements for switching over.
Battery-News: In the area of battery manufacturing — and especially in battery compounds — there has been a lot of movement in the last few years. Traditionally, electrode masses are often manufactured discontinuously. But new developments demonstrate that the use of twin screw extruders in continuous production is gaining more and more traction. What are the advantages of this switch?
Thorsten Stirner: Switching to a continuous manufacturing process and using twin screw extruders can optimize production in terms of both cost and quality. In continuous production, there is a flowing transition from one process step to the next. For that to happen, every process stage has to be efficiently attuned to the following step. Since fewer manual steps are necessary for continuous production than in traditional manufacturing, it enables a higher degree of automation, reduced personnel and space needs, thus lower operating costs. Moreover, with a high degree of automation, the formulation can be precisely maintained. That ensures a reproducible, consistently high product quality.
Battery-News: The heart of continuous production is the twin screw extruder — what advantages does this machine provide?
Thorsten Stirner: Twin screw extruders — and in particular the ZSK series from Coperion — are high-performance extruders that can optimize the battery manufacturing process. Slurry homogeneity plays a significant role in the quality of battery compounds and it is here that the extruder really makes a difference. The ZSK has a high dispersive mixing output, meaning it breaks up solid agglomerates. As a result, the mixing and homogenization that follow produce a very homogeneous mass and thus a high-end product quality.
Depending upon the state of the ingredients, some raw materials can stick to machine parts. The ZSK series' closely intermeshing twin screws prevent poor flow zones along the entire length of the process section which enables optimal self-cleaning, and that makes for easy recipe changes, among other things. Moreover, they produce a constantly high conveying efficiency, reducing the remaining material in the extruder and enabling material-efficient production.

Manufacturers need to be able to react quickly and flexibly to changes in production. With continuous extrusion, they can do just that. For one, the extruder's throughput can be adjusted to the production process so that the extruded electrode mass can be coated directly after exiting the extruder. Thanks to simple scale-up, production ranges between 2 l/h up to 1600 l/h, dependent on machine size, are achievable. For another, recipe changes such as the reduction or substitution of toxic solvents can be implemented without much effort. The twin screw extruder's process section possesses a modular construction that allows different process zones to be created where material can be mixed, homogenized and devolatilized according to the recipe. This makes it possible to implement application-specific requirements individually and flexibly by modifying the screws and changing the process architecture.
The extruder exhibits advantages regarding energy costs as well. By reducing and substituting solvents, shorter drying times can reduce energy needs so that production can be more environmentally friendly.
Battery-News: Along with the extruder, feeding also plays an important role in the process. Can you explain to us why feeders are so important to end product quality?
Stirner: Coperion offers entire installations for battery compound manufacturing, in which a Coperion extruder and Coperion K-Tron feeders form a reliable unit. Dependable feeding is a significant factor in end product quality. Coperion K-Tron's gravimetric bulk solid and liquid feeders are ideally suited for these tasks as they provide very high accuracy, consistency and flexibility. A variety of feeding solutions is available, all designed based on over 100 years of experience in material handling. Gravimetric feeders feature Smart Force Transducer (SFT) weighing technology and advanced KCM feeding control, providing high-accuracy feeding, even with difficult, toxic materials in challenging environments. The dynamic filter algorithm identifies and extracts continuously disruptive mass components from the weight measurement, even under difficult process conditions. Thanks to this digital filter, SFT load cells deliver accurate, stable, and reliable weight measurements under any operating conditions.
In battery compound production, solid materials are often poorly flowing powders. Twin screw feeders are especially well-suited in cases like these as they have a greater intake volume than single screw feeders, which then results in more reliable material discharge. Whether for lower feed rates in pilot or development lines, or higher feed rates in production lines, Coperion K-Tron feeders excel with a wide range of speeds, contributing to flexibility in formulation.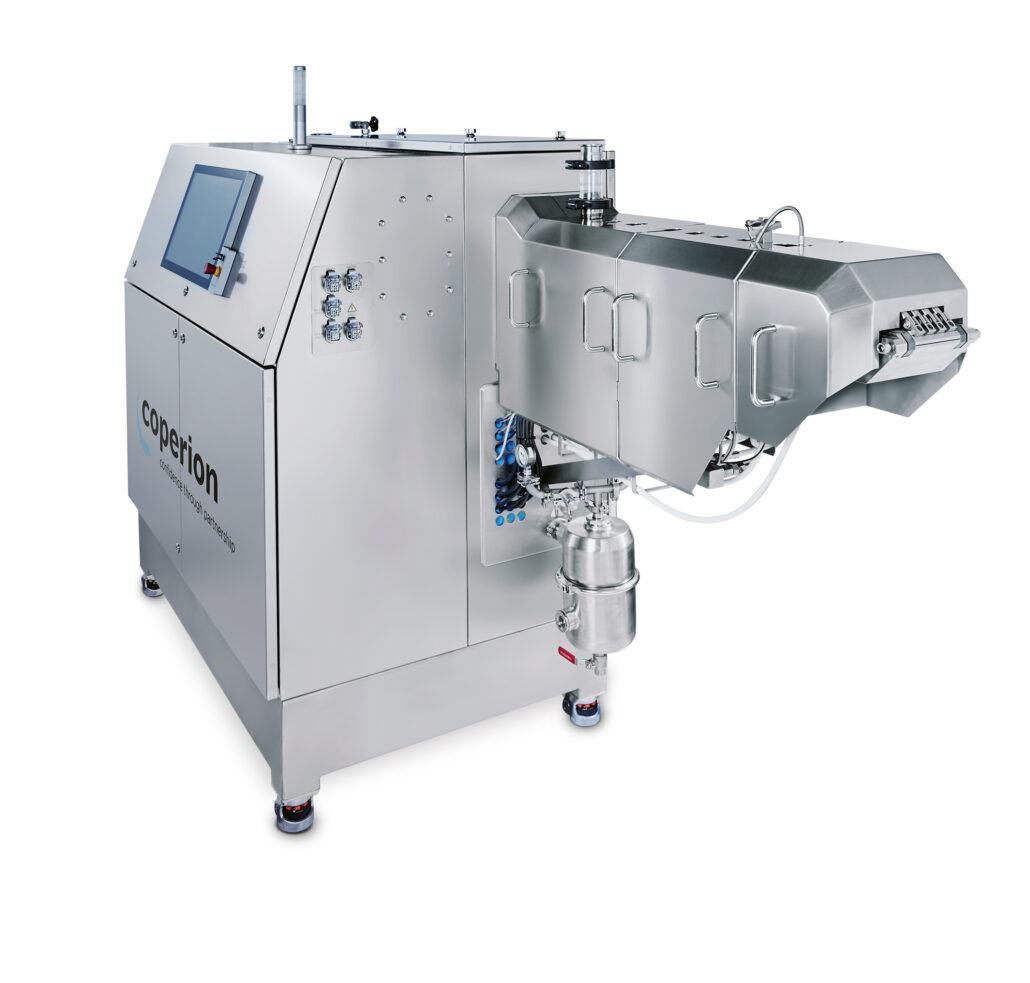 All of Coperion K-Tron's feeders are easy to disassemble and clean. Product-contact parts are constructed of stainless steel, making them optimally suited for wash-in-place cleaning. Standard configurations up to OEB level 4 are available for the necessary containment in battery compound manufacturing, higher can also be specifically designed.
In addition to the advanced technology, Coperion K-Tron feeders offer specially developed options such as Electronic Pressure Compensation (EPC) or the ActiFlow bulk solid activator, allowing them to contribute significantly to the optimal functioning of the manufacturing process and high end product quality with their highly accurate and reliable feeding performance.
Battery-News: How does Coperion take containment issues into account when designing extruders, feeders and bulk material handling equipment for battery compound manufacturing systems?
Stirner: Since toxic materials are used in battery production, containment (usually OEB level 3 to 4) is essential. Coperion delivers bulk material handling, feeding, and extrusion as a complete system from a single source, and as part of that we plan, develop and build a corresponding containment concept to prevent the escape of dangerous materials.
From emptying toxic bulk solids from containers such as big bags, as well as feeding raw materials into the extruder, production takes place under correspondingly protected conditions. Among these are high efficiency filtering measures during pneumatic conveying or dustproof component design, to name just a couple of examples. Coperion has been conceptualizing and building entire plants for more than 60 years. These decades of experience and expertise put us in a position to create the system we deliver to be safe for the work environment and for the overall environment.
As an example, in Coperion K-Tron feeders, the feeding is dustproof; the feeder, including the hopper and discharge unit is designed as a contained vessel. Ventilation, which is essential for high-accuracy loss-in-weight feeders, is achieved using jet filters to prevent dust particles from making their way into the atmosphere. Flexible connections between the individual components, such as from ingredient refill to feeder, or from feeder to process, also support the system's containment.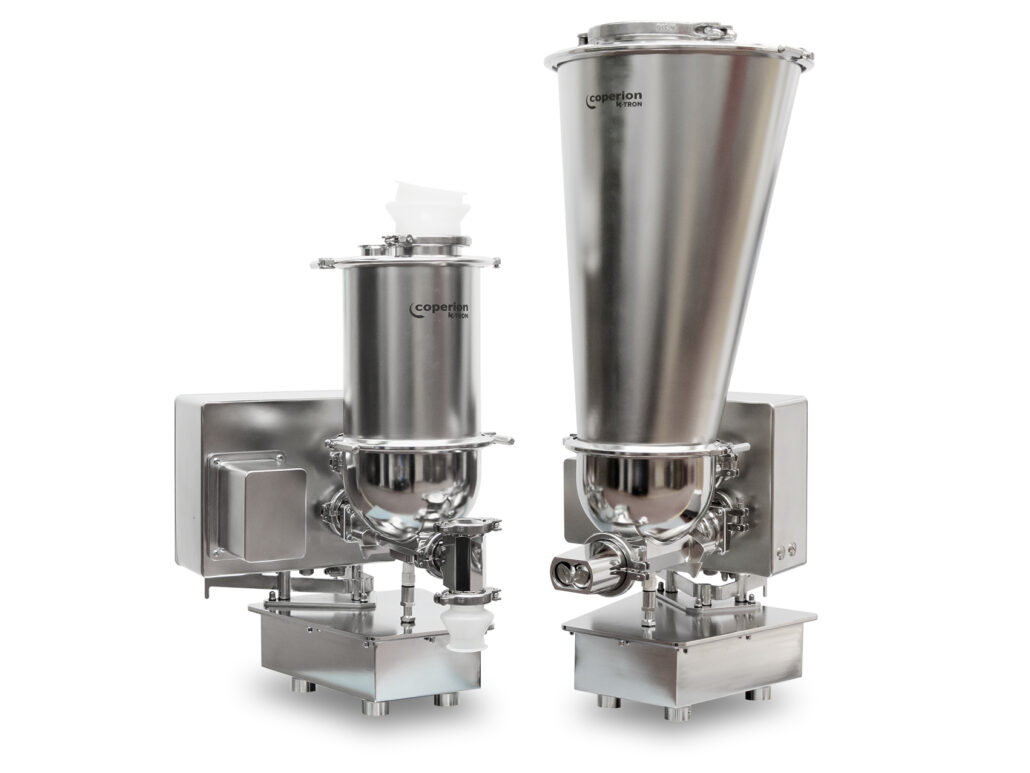 Just like the feeder, the vacuum conveying receiver can be viewed as a contained vessel. The receiver and the system components' seals are designed to be dustproof and the connections to the preceding and following process steps are sealed. All of these measures create a secure containment concept and limit emissions.
Battery-News: If I'm interested in changing to a continuous process now, what should I pay attention to in the transition?
Stirner: Switching to continuous manufacturing requires rethinking and modifying machines and technology. For a functioning process, every step must be attuned to each other. As a system provider, Coperion offers everything from a single source. You get an integrated solution that is tailored to the proper requirements — from bulk material handling to feeding to extrusion. Fewer interfaces and point people make the process easier.
Electromobility is forcing the entire battery industry into a new way of thinking. End customers' expectations of state-of-the-art mobile energy supplies are presenting great challenges. Together with our project partners, we precisely identify the requirements of each project and adapt to changing conditions during the course of the project to deliver the right solution.