In the mass production of battery cells, even the smallest time or energy savings in individual production steps are crucial. When added together, these optimizations result in a significant increase in the output of a production line, and can even have a positive effect on costs and carbon savings. In order to make fully automated battery production as efficient as possible, it is worth taking a closer look at the control technology used in machines and systems: the shorter the cycle times, the higher the output. This can be illustrated by a simple example: If a line scan camera can record a 5 mm strip in one cycle, it achieves a speed of exactly 5 mm/s with a control technology cycle time of 1 second. With PC-based control technology, on the other hand, the 50 µs cycle time achieves a 20-fold higher speed while maintaining the same information density.
PC-based control technology from Beckhoff runs all control functions on a central PC platform, which allows it to offer the highest possible production speeds. The programming and control of all functions are carried out in a single software system running on an industrial PC. This ensures efficient interaction of all components as well as maximum synchronization, since all information is available with a common time reference. It also avoids friction losses or latencies, such as those that tend to occur during communication between different systems.
When it comes to multiplying modern gigafactories quickly in the future, battery producers have recognized the importance of correlating process data – i.e., formulations – with the corresponding control parameters of the plants.

Jörg Rottkord, Automotive Industry Manager, Beckhoff Automation
The high performance of modern processors, which form the core of the PC-based control platform, allows for the centralized execution of computationally intensive tasks. This means that a large number of axes, such as those required for winding battery cells, can be synchronously controlled via an industrial PC, enabling maximum precision and speed in even highly sophisticated processes. Vision applications and machine learning scenarios can also be integrated directly into the control system using powerful PC-based systems. Due to their easy scalability on both the software side (adding modular software blocks) and hardware side (processors with higher performance, multi-core), PC-based automation solutions provide an optimal foundation for machine control in battery production lines, regardless of whether this involves pouch, round, or prismatic cells, and even when considering future requirements.
PC-based control technology not only enables maximum efficiency and speed, but also a completely new approach to production processes. High-performance industrial PCs can be used to control the intelligent Beckhoff XTS and XPlanar transport systems, for example, which facilitate the individualized transport of each battery cell: Individual movers transport the cells either along a linear transport rail or by floating two-dimensionally over a field of application-specific magnetic tiles. These individualized transport routes minimize the plant footprint, enabling a maximally flexible production environment and permanent, uninterrupted product tracking.
PC-based control for cell production
PC-based control offers advantages for all battery production processes. These are particularly evident in the stacking and winding processes for pouch or round cells, where the requirements for precision and speed are exceptionally high.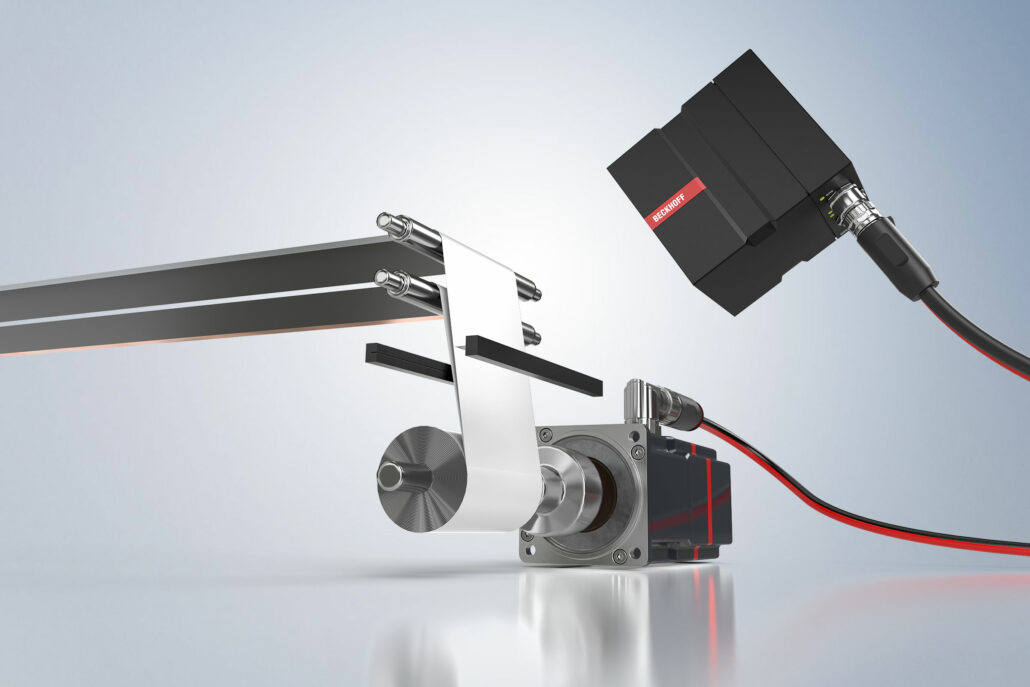 The rolling process used in round cell production involves winding a jelly roll from an anode strip, a cathode strip, and two separator strips. This is subsequently inserted into a metal housing as part of the production process. Accurate web edge control is critical when winding the jelly roll to ensure precise positioning of the various belts. This requires perfect coordination between the vision system and the NC on the control side. PC-based control technology allows for the direct integration of image processing into the control platform, thereby optimizing synchronization with the motion control. The EtherCAT high-speed communication system offers a further advantage, as its ultra-fast data transmission with exact timestamp function means no time is lost during communication with sensors, actuators, or the vision hardware. With XFC technology (eXtreme Fast Control Technology), even response times of under 100 µs can be achieved to ensure not only precise winding accuracy, but also high output.
Pouch cells are produced in a stacking process: Electrode sheets of cathode or anode material are placed between separator layers – for example, with a Z-fold. Similar to the winding process for round cells, a high level of accuracy and speed are also crucial in Z-folding.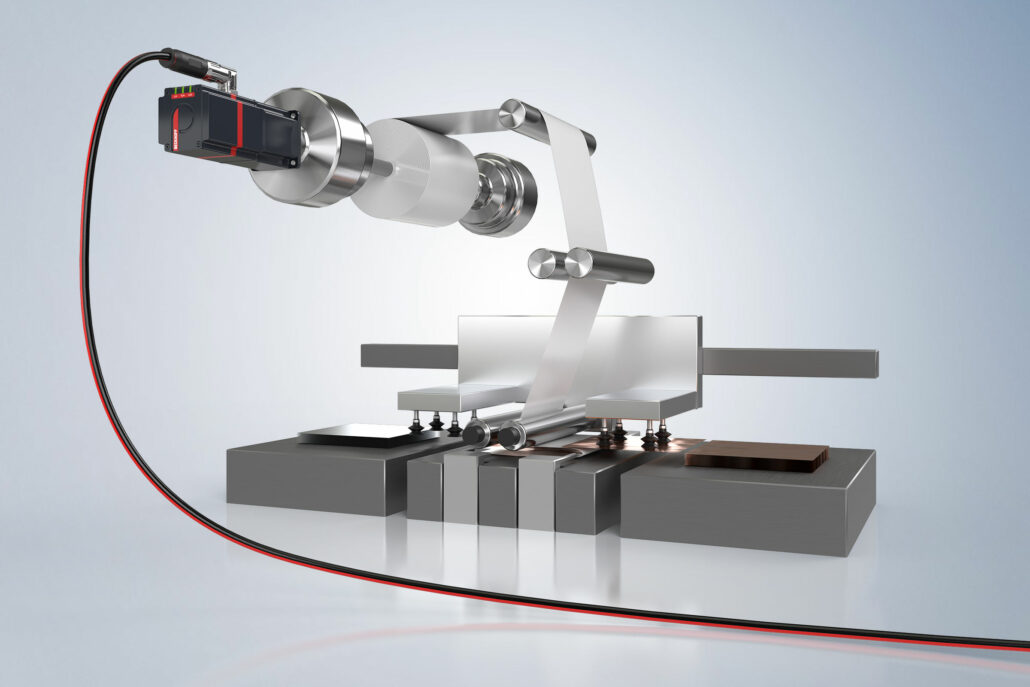 By consolidating all control functions into a powerful PC platform, even highly sophisticated motion tasks in the stacking process of battery cells can be executed with real precision. This makes it possible to control a high number of axes both centrally and synchronously. Robot kinematics can also be seamlessly integrated into the control system. Additional software functions for motion control include the rapid and accurate synchronization of continuous to clocked processes. Even on the hardware side, new automation solutions offer advantages with regard to the assembly of pouch cells: Traditional drive technology in the Z-fold can be replaced by decentralized servo drive systems, for example. These integrate the servo drive directly into the motor to save valuable space in the control cabinet. EtherCAT P is used to reduce the machine footprint further still, with this solution combining power and feedback lines into a single cable.